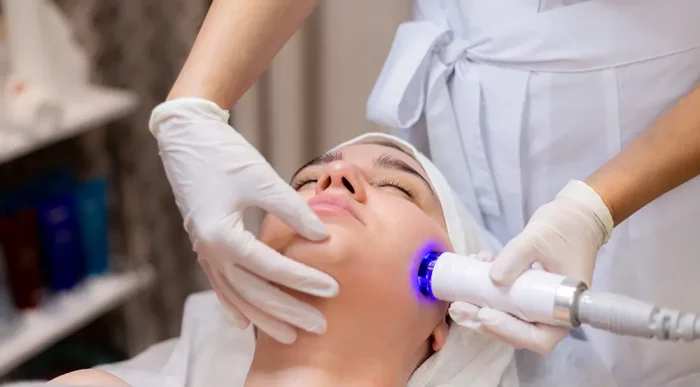 Let's face it — for most people, there's hair in places they might not want it to be. Like that annoying unibrow. Or those sideburns you've always wanted to get rid of. Don't let fuzz get in the way of your self-confidence. With Laser Hair Removal at V&P in Chicago, you can say goodbye to unwanted hair on your upper lip, chin and neck, and say hello to your Ideal Skin.
Facial Laser Hair Removal Chicago can safely, effectively and permanently reduce the hair, without the harmful effects shaving can have on your skin. Our lasers are powerful enough to get rid of the most annoying hairs, and sensitive enough to work on your face, so you can put your confidence in our expert medical staff. The most commonly treated areas for men are the neck, neckline, and beard. For women, common treatment areas include the upper lip, sideburns, chin, and neck.
Why Choose Our Laser Hair Removal for Lip & Chin in Chicago?
We utilize GentleMax Pro Plus laser so we can safely treat all skin types and hair textures.
Higher fluences, larger spot sizes and shorter pulse durations all point to the power of the new GentleMax Pro Plus platform. Only Candela combines this much power and our distinctive DCD cooling protection to treat a wide variety of skin conditions.
Fast treatment times for greater throughput and increased profitability

Treatment versatility beyond hair removal

Confidence in consistent outcomes with long-lasting results

Fast, convenient and comfortable treatments

Treatment versatility beyond hair removal
Thanks to the GentleMax Pro Plus advanced technology, laser hair removal is now available for everyone! Candela's patented cryogen cooling system allows for maximum comfort and safety. Whether you have fair skin, dark skin or tanned skin, the GentleMax Pro Plus laser can eliminate the need for shaving, tweezing or waxing. It is the most revolutionary hair removal system available today.
Frequently Asked Questions