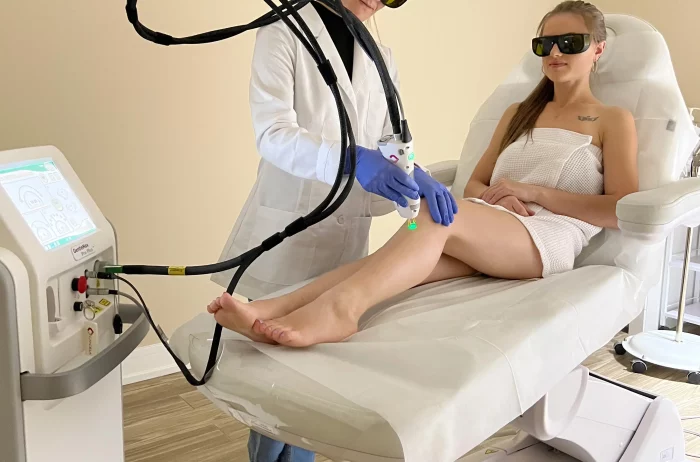 It's hard enough to feel confident every day without worrying about your body hair. Say good-bye to red shave bumps, stray hairs, pain from waxing, and constant regrowth. V&P Laser Hair Removal & Skin Care offers full legs laser hair removal, so you can feel beautiful and sexy every day. After six sessions, you can expect lasting results. We utilize GentleMax Pro Plus laser so we can safely treat all skin types and hair textures.
Laser hair removal Chicago is an increasingly popular cosmetic procedure designed to drastically reduce hair growth in areas considered unsightly. The technique uses specially designed lasers to safely burn away leg hair. This affects not only the surface hairs but even the follicles, which are located under the skin. This halts unwanted hair growth at its source. Once the now severed hairs are shed the pores they once occupied close up, stymying future growth in that area. The result is a stubble surface that is smooth and uniform both to the eye and to the touch.
The Benefits of Laser Hair Removal
In addition to getting rid of unsightly hair, laser hair removal has several benefits over traditional waxing and shaving.
Opt for laser hair removal in Chicago for benefits such as:
Never get razor burns, or ingrown hairs again

Precise targeting: Our lasers have settings for different hair types and are also calibrated to only target certain areas that have hair, leaving the rest untouched.

Fast treatments: Our hair removal lasers have the largest spot size to enable the treatment of several hair follicles at once. This makes for an efficient, fast, treatment. You can get your upper lip done in under one minute.
Money Savings: Laser Hair removal has an upfront cost, but once you've has your hair removed, its permanent. That means you will save big in the long term since you'll no longer be paying for waxing, razors, or shaving gel.

Targets all locations: You can do laser hair removal on any region of the body. We've got you covered whether its armpits, bikini area or buttocks, you can count on us to make sure you get rid of any unwanted hair.
Frequently Asked Questions