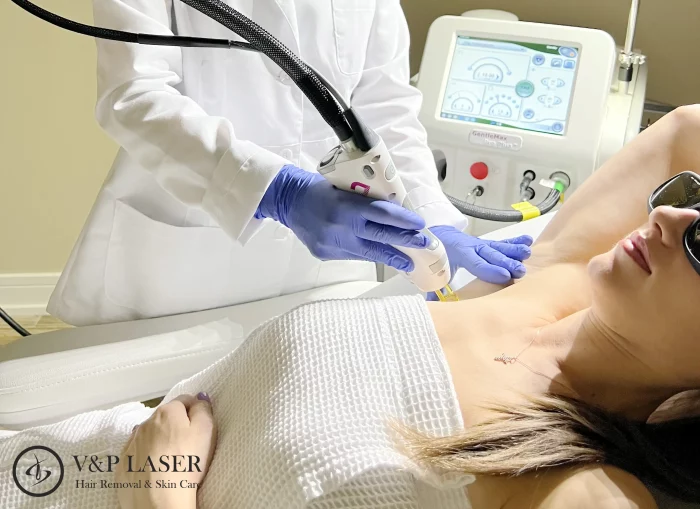 Shaving, waxing, or threading is a hassle, painful, and requires constant maintenance. A solution to treating underarm hair is laser hair removal.
Laser hair removal of underarm hair yields long-term hair reduction. Therefore, reducing the need to shave, wax, or thread. At V&P Laser Hair Removal & Skin Care, e utilize GentleMax Pro Plus laser so we can safely treat all skin types and hair textures. Our licensed laser technicians will customize a laser hair removal program that provides you with the safest, most effective results possible.
Laser hair removal is a non-surgical procedure in which a special low-energy laser is used to remove unwanted hair on the body including face, back, neck, legs, bikini line, chest, and underarms. Unlike other forms of hair removal such as shaving, waxing, or plucking which only temporarily remove the hairs, laser hair removal targets the hair follicle itself for a more permanent result.
BENEFITS OF LASER HAIR REMOVAL FOR UNDERARMS
Permanent Procedure: Laser hair removal produces permanent results, saving you from a lifetime of waxing and shaving the underarms.

Comfortable & Gentle: Laser hair removal doesn't cause any pain, discomfort, nicks, cuts, razor burns, or other side effects.

Lunchtime Procedure: Laser hair removal for the underarms usually concludes within 10 minutes, so you can easily fit it into a busy schedule.

Go Sleeveless: You can go sleeveless whenever you want without worrying about your underarm hair.

Cost-Effective: Estimates suggest that people spend around $23,000 on waxing over a lifetime. With laser hair removal, you can achieve permanently hair-free underarms at a fraction of that figure.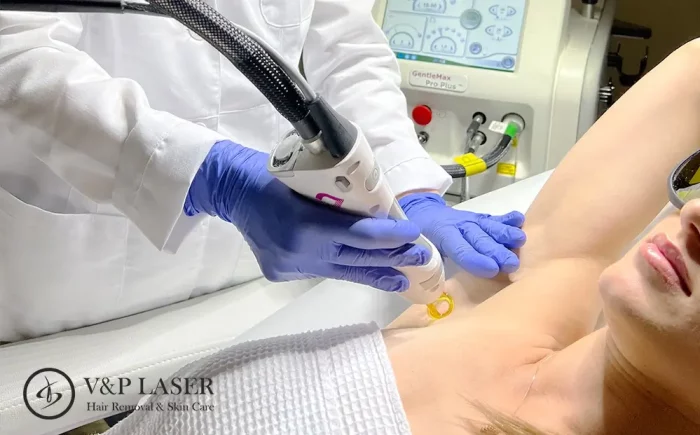 Frequently Asked Questions