Hair removal is part of many women's self-care and skincare routine. However, those who have tried waxing, shaving or depilatory creams know how inconvenient, tiresome and frustrating removing unwanted body hair can be. Fortunately, there is another faster, more affordable and less painful solution: women's laser hair removal.
In addition to getting rid of unsightly hair, laser hair removal has several benefits over traditional waxing and shaving.
Opt for laser hair removal in Chicago for benefits such as:
Never get razor burns, or ingrown hairs again
Precise targeting: Our lasers have settings for different hair types and are also calibrated to only target certain areas that have hair, leaving the rest untouched.
Fast treatments: Our hair removal lasers have the largest spot size to enable the treatment of several hair follicles at once. This makes for an efficient, fast, treatment. You can get your upper lip done in under one minute.
Money Savings: Laser Hair removal has an upfront cost, but once you've has your hair removed, its permanent. That means you will save big in the long term since you'll no longer be paying for waxing, razors, or shaving gel.
Targets all locations: You can do laser hair removal on any region of the body. We've got you covered whether its armpits, bikini area or buttocks, you can count on us to make sure you get rid of any unwanted hair.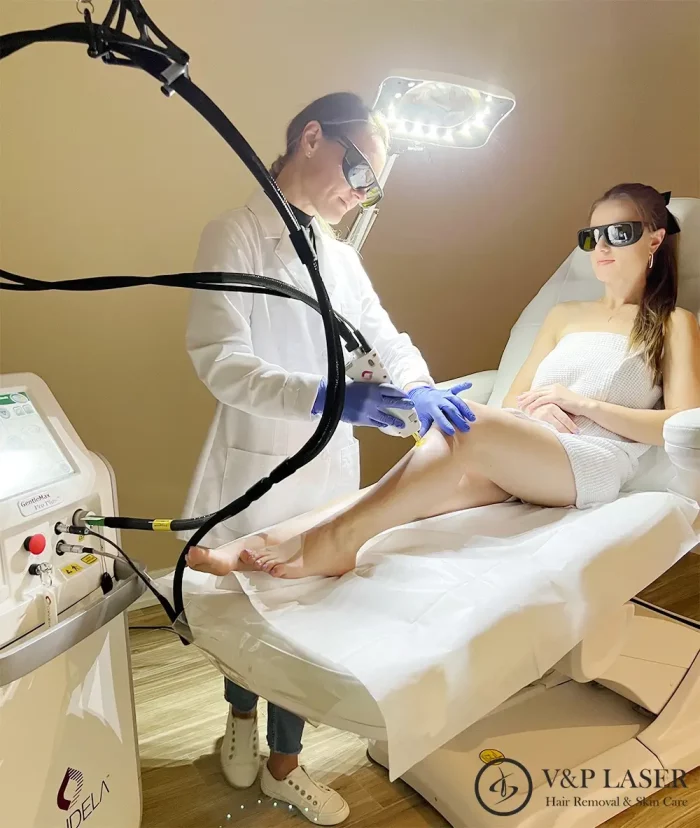 Is laser hair removal safe?
Yes, laser hair removal is safe. However it can occasionally cause side effects, such as pain and discomfort, and red skin that may last for some time. Laser hair removal may not be suitable for everyone, including pregnant women. There's no evidence to suggest that laser hair removal causes skin cancer.
Is it painful?
Patients refer to discomfort to describe the sensation during a laser hair removal session. Laser hair removal is not painful and will feel like pinching or a rubber snapping at the skin very fast. Our laser technicians do their best to ensure that your overall experience is comfortable for each patient.